In order to pass the GED Mathematics Test, you'll need to demonstrate your knowledge of number operations; probability; statistics; data analysis; algebra; geometry; and coordinate geometry.
The only calculator allowed while taking the test is the Casio fx-260. If you do not have one, it would be highly desirable to get one. It would be wise to practice before instead of during the test.
Get to know your calculator and all its functions.
Note: You will be provided with a calculator for Part I of the test. You may use a calculator on Part I of the test but you are not required to use one. You may not use your own calculator.
Get familiar with the FORMULA sheet. Know what each formula does and do problems using each formula.
Get familiar with the different formats used on the answer sheet and do actual problems shading in the answer sheet as needed. Most of the questions are multiple choice and have 5 possible answers which you can bubble-in. Excercises are available for graphing and answer grid problems as part of this folder.
Practice specific topics as outlined below:
Fractions
Decimals
Percents
Multiplication & Division
Powers and Roots
Measurement
Statistics & Probability
Graphs
Payroll
Sequences
Algebraic Expressions
Equations, Inequalities and Problems
Geometry
Coordinate Geometry
Fractions, decimals, percent and measurement can be practiced as part of the GED folder under Basic Math. The remaining topics can be found throughout this web site. If you cannot find a topic, simply type in a search phrase and it will search this site.
The actual test is basically constructed as shown in the table below. Each context area has from 10 to 15 questions. The test comes in 2 parts. You may use a calculator on Part I but not on Part II.
Mathematics
(50 questions - 90 minutes given in 2 parts: 25 questions - 45 minutes each)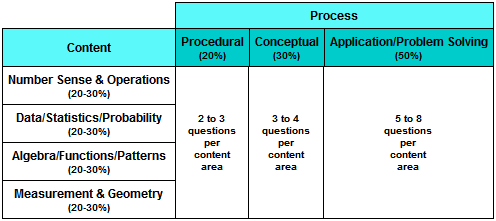 Practice with as many Practice Tests as you can obtain, using answer sheets that are very similar to the real thing. You can find practice tests at various web sites simply by searching for "GED Practice Math Test".
Learn how to improve your test taking skills by making several passes through the test. First read each question and answer all the easy questions. On the second pass, do problems that you are capable of doing but may require some time. On the third and final pass at least attempt to do each one. For multiple-choice problems, always eliminate as many wrong answers as possible, which will improve your chances of getting it right, even if you have to guess. Never leave a GED math question unanswered because there is no deduction for a wrong answer!
Good Luck!